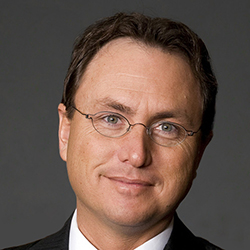 Brandon Fugal, the commercial real estate icon and influencer, launched his career at the young age of 18, days after graduating from high school. He is chairman of Colliers International in Utah, responsible for transforming communities and the skyline of the Intermountain West.
In an industry known for generating wealth, most people would find it unbelievable he made only $500 in his first year. That's right. FIVE. HUNDRED. DOLLARS. Working full-time. Fugal struggled with self-doubt and frustration and considered quitting on a regular basis. Nonetheless, he persevered and overcame, becoming the most recognized name in commercial real estate. He is quick to give credit to early mentors and key influences who inspired him to persist and overcome those challenges.
Many consider "Wall Street" as one of the greatest business movies of all time. It is also Fugal's main influences starting from a young age. In fact, Fugal says, "It is required viewing for all of my partners, as it illustrates basic principles that are as true today as they were back then". In order to give others a peek behind the scenes, we asked Brandon to elaborate on those key principles that have differentiated him. Here are just a few:
Deliver Superior Market Intelligence
"The most valuable commodity I know of is information", remains a favorite quote of Fugal's, as delivered by the infamous character Gordon Gekko (played masterfully by Michael Douglas).
"You can truly dominate the market if you possess proprietary information", states Fugal. "Effectively obtaining and utilizing superior market intelligence and information is what differentiates a leading service provider from a secondary one."
Persistence Pays Off
"This is the kid, calls me 59 days in a row, and wants to be a player. There ought to be a picture of you in the dictionary under 'persistence' kid," Gordon Gekko said in "Wall Street".
"Persistence is one of the most important keys to success", adds Fugal. "As a young agent, I called one particular small business owner for four months before I got an audience. That company ended up being the first company I represented that kicked off the landmark Cottonwood Corporate Center, signing the first prelease in that project."
Fugal's bold persistence earned him the reputation as the predominant expert in all things commercial real estate.
The Harder You Work, The Luckier You Get
While pointing to a bum standing next to a businessman on a street corner, Gordon Gekko says, "You gonna tell me the difference between this guy and that guy is luck?"
The old adage "the harder you work, the luckier you get" is absolutely true, Fugal affirms.
In closing and with a smile, Fugal offered the following, quoting the Wall Street character: "It's the free market. And you're a part of it. You've got that killer instinct. Stick around pal, I've still got a lot to teach you."
► You'll also like: Josh Romney: In the Business of Helping Others